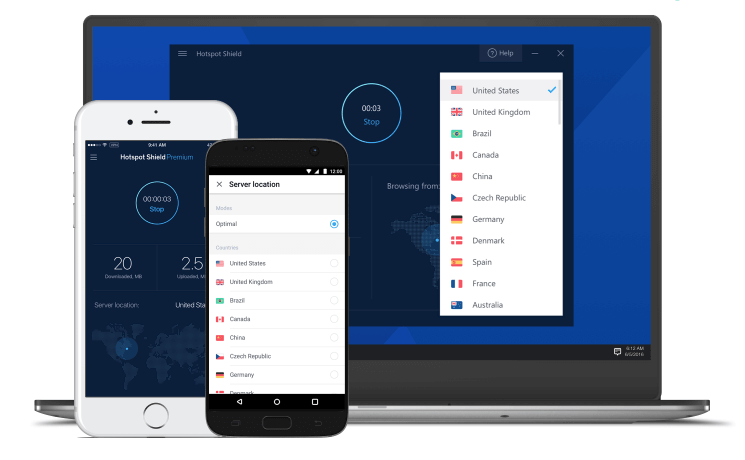 Hotspot Shield VPN review was easy, as their product family is one of those companies that do not hide their identities like NordVPN or ExpressVPN. In fact, I've met the founder of the company a year ago in their office in the Bay Area. It is an amazing company with a superb atmosphere. Most of the team is in the US but there is also a tech team in Ukraine.

[add_schema name="HotspotShield" price="11.99″ rating="4.0″]
The founder himself tells me that Anhorfree – the actual name of the whole company, was the first VPN provider is operating successfully for over 12 years. 650 million app installs – that's a serious figure not seen in their competition before.

Is HotspotShield first to market advantage still helps them?

Should you get a Hotspot shield to protect your online privacy?

Let's get it installed on both Mac and iPhone to find out.

Quick HotspotShield VPN overview
| | |
| --- | --- |
| Feature | Answer |
| Logging policies? | Yes, some |
| Location? | United States |
| Encryption protocols | 256-bit AES encryption |
| Torrenting | Allowed |
| Customer support | Ticket system + live chat |
| Unblocks US Netflix? | Yes |
| Money back guarantee? | Yes, 7 days free trial and 45 days money back |
| Option to pay in cryptocurrencies? | No |
| Cost | $7.99/mo (free version available) |
| Website | hotspotshield.com |
HotspotShield download & installation
The process of starting up HotspotShield VPN on your device requires the least effort amongst all its competition. And I'm telling you that HotspotShield will be running in 2 minutes from the start. The easiest way is to go to the AppStore (if you are using Mac or iPhone) and download it from there.
You won't be even asked to fill in your credit card details since billing can be processed through the AppStore. Look for the shield logo in your toolbar – click connect, and poof! Your web identity is now protected by a virtual private network from Anchorfree.
On your iPhone is the same, just type hotspot shield and download the app – easy!

What devices are supported by Anchorfree VPN? Hotspot Shield is available for Windows, Android, Mac, and iOS.

Furthermore, this VPN also has a Chrome browser extension yet I would not recommend it since there is a slight chance of DNS leaking.

If you are an advanced user and would like to set-up Hotspot Shield on devices such as Linux, routers or SmartTV – sadly, it's not possible since there are no manual install guides.

How many devices can you connect to Hotspot Shield VPN? Up to 5 devices.

Encryption
Hotspot Shield VPN uses AES 265-bit encryption which is an industry-standard to secure your web traffic. Also, to secure your data, it uses a key-agreement protocol that continuously switched your encryption key. This means that even if your encryption key gets discovered, your data will remain secure after that.

Instead of popular OpenSSL protocol, Hotspot Shield uses a Catapult Hydra protocol that is optimized for the fastest connection speeds.
Security
Is it safe to use Hotspot Shield? As mentioned below, we've discovered DNS leaking while using the Hotspot Shield Chrome browser extension. No DNS leaks were noticed while using the Mac OS application.

There is a slight drawback of using the Mac OS app – automatic kill switch that protects your data even when the connection drops – is only available for Windows app.
Here are the results with the Chrome browser extension –

The good news is that the actual IP address is not leaking, just a few DNS addresses meaning that the websites you visit can detect that you are using a VPN.

But wait, there is more. Hotspot Shield was also involved in a complaint regarding data privacy. In 2017, CDT aka Center for Democracy and Technology said that Hotspot Shield VPN might be misleading their users and might share their data with external companies such as advertisers.
This is, of course, does not mean that all your browsing activity is being exposed, but it surely doesn't add any confidence for the end-user.

And one more thing… not so long ago, just last year (2018) some researchers finally found a bug in Hotspot Shield code which helped him to expose the actual name of the network and country.

Again, this does not mean that Hotspot Shield is careless about privacy but there are things to improve for sure.

Logging policy
Ok, so Hotspot Shield did not get the best feedback on security but what about their logging policy?
Remember me telling me that Anchorfree company is headquartered in the United States? Well, for someone that is familiar with privacy rules and laws, this is not a good indication. When evaluating VPNs we're always using privacy terms like 9 or 14-Eyes Alliance and the United States was one the founding partners.

For anyone concerned about privacy this is a big red flag. A quick look at the Hotspot Shield privacy policy tells us that VPN will log users' actual IP addresses, email addresses, hardware type and model, OS version, language, username and also network information.

Performance
This is the best part of Hotspot Shield. It's actually one of the fastest VPNs out there due to Hydra Catapult protocol which was built for speed.

You can see here speedtest.net results without a VPN.
And here is the result with Hotspot Shield VPN connected to a server in the UK – 157 Mbps download! We haven't seen a better result now.

Netflix streaming works perfectly with Hotspot Shield as well.

Customer support
When I had actual connection issues I went straight to hotspotshield.com to look for a live chat to pop-up. At first, I thought that they don't have one but a few moments later Zendesk chat appeared. The customer representative was helpful, we identified and solved the issue successfully.
Overall, no bad words about support. Hotspot Shield also has an extensive knowledge base of FAQs and other useful content.

Pricing
Eventually, everything goes down to the question of whether Hotspot Shield is worth the buck. And let me stop you here – Hotspot Shield VPN also has a free version which might be ok solution for many users. Just keep in mind that free version will log even more records like MAC address, your city-level location, wireless carrier, unique advertised ID, and also IMEI. Plus, you will be capped at 500 MBs per day – not so many Netflix series I guess. But hey, it's free and stills gets you the majority of the virtual private network benefits.

What's the price of premium Hotspot Shield VPN? Have a look at the screenshot below:
The most popular 1-year plan will cost you almost 7.99 EUR per month which is way above the competition. Even if you are getting a 2-year plan, one month still costs 6.99 EUR. And I must say that's a lot when you consider using a VPN which is based in the US, it partially logs your records.

Verdict
Do I recommend you buying Hotspot Shield VPN? This time I have to say no as super high-speed connection do not justify premium pricing + security and logging policies. There are two times cheaper alternatives like SurfShark or Cyberghost VPN which are packed with great performance and does not expose your online identity.